Spitting Tobacco
Addiction to spitting tobacco products–including chewing tobacco and moist snuff (or so-called "smokeless tobacco" to imply a non-burning product and less smoking)–by high school and college students remains a significant problem, especially in southern and western states. Nonetheless, the United States Smokeless Tobacco Company (UST), makers of Skoal and Copenhagen, has succeeded in promoting its products as a safe alternative to cigarettes.
In 2008, Altria, parent company of Philip Morris, USA, makers of the number one cigarette brand Marlboro, acquired UST. One result was the introduction of an oral tobacco product called Marlboro snus.
The death from salivary gland cancer of beloved National Baseball Hall of Fame player Tony Gwynn (1960-2014), a longtime user of smokeless tobacco, sparked greater educational efforts in the US to curb spitting tobacco use among teenagers, especially athletes. In 2016 Major League Baseball banned tobacco companies from giving free samples of smokeless tobacco to players in stadium locker rooms but only prohibited the use of smokeless tobacco by rookies.
Beech-Nut Foil Pack

Video clip of Beech-Nut chewing tobacco television advertisement
1960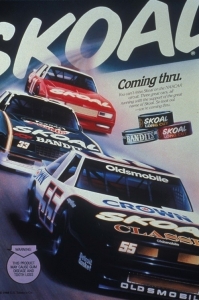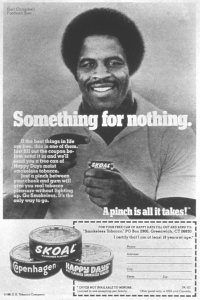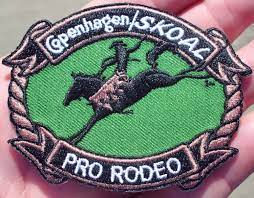 Sports and Spitting Tobacco
Sports sponsorship was key to the rise in popularity of smokeless tobacco from a tradition of the rural South to a nationwide addiction. NASCAR driver Harry Gant, football star Earl Campell ("The SKOAL Man"), and the Pro Rodeo tour all benefitted from United States Tobacco Company (UST) money beginning in the 1980s. Acquired by Marlboro maker Altria in 2009, UST is now called the U.S. Smokeless Tobacco Company.
"Strike Out Spit Tobacco" (3 pages)
Brochure
Medical Association of Georgia Alliance
Circa 2000
Choose Copenhagen
Advertisement, Copenhagen moist snuff
Maxim
November, 2007
Children with give-away SKOAL Bandit tote bags at Yankee Stadium, New York City
Photograph by Andrew Skolnick
New York State Journal of Medicine, July 1985
1984
"Baseball swings and misses at cancer"
Editorial by Alan Blum, MD
The Tuscaloosa News
October 29, 2014
"Snus is on the loose! Swedish snuff beats Bloomberg tobacco ban"
Article by Joe Pompeo
The New York Observer
July 29, 2014
"If you chew… You won't"
Bentley Boyd
The Daily Press (Williamsburg, Virginia)
July 1997
"(Chewing tobacco sushi)"
Joe Canaday
The Richmond Times-Dispatch
2000
"'Report says chewing of tobacco maybe hazardous'"
Jimmy Johnson
The Jackson Daily News (Mississippi)
July 10, 1980
"Bobby Fischer's opening move [spitting on the US]"
David Seavey
USA Today
September 3, 1992
"[Tobacco Settlement: Joe Camel spitting on Uncle Sam] 'Ptoooie!!'"
Mike Ritter
Tribune Newspapers (Arizona)
April 10, 1998